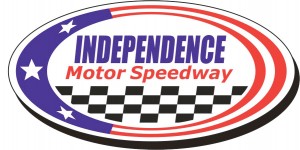 INDEPENDENCE, Iowa (May 26, 2012) – Despite receiving over two and-a-half inches of rain at the track overnight on Friday, fans witnessed a terrific show Saturday night at Independence Motor Speedway.
A great field of 104 race teams signed in for the fourth night of weekly points racing on a night that a pair of drivers became the first to earn back-to-back wins this season.
In the IMCA Modified division, front row starter Mike Burbridge shot into the lead at the drop of the green and quickly pulled away from the field. Burbridge extended his lead to a few car-lengths while Darin Duffy settled into second from his second row starting spot.
Duffy chased the leader for 11 circuits until Burbridge came to a sudden stop in the middle of turns three and four with apparent rearend problems. Burbridge was towed to the pits while Duffy took charge on the ensuing restart.
As Duffy paced the field, Troy Cordes rocketed through traffic after restarting in fifth. He quickly made his way into third before skating past Vern Jackson for second on lap 13. Cordes closed on Duffy late, but was unable to make a bid for the lead as Duffy escaped with the win, his second straight.
Danny Dvorak also made a trip to victory lane for the second week in a row after he took the lead just past the midway point of the 15-lap IMCA SportMod feature. Early on, it was pole-sitter Shane Ebaugh at the front of the pack while Dvorak was working from a fourth row start. Meanwhile, Kip Siems challenged Ebaugh for the lead before taking over the top spot four laps into the 15-lapper.
Dvorak raced his way into fourth by the time Siems took charge, then made his way into third place before the caution flag waved on lap eight. When racing resumed, it took Dvorak just one circuit to sneak past both Ebaugh and Siems to take control. He led the final seven laps to score the win ahead of Siems.
Norman Chesmore rocketed through the pack at the start of the 18-lap IMCA Stock Car feature. From his sixth row starting spot, Chesmore made his way into the top three after just one circuit, then quickly challenged Jason Niedert for the lead.
Chesmore took charge after just three laps while Jarod Weepie and Sean Johnson moved into the top three by the time the yellow flag waved on the fifth lap. When racing resumed, that trio put on a great display at the front of the pack, swapping positions and racing grooves for a number of laps.
After Johnson worked past Weepie for good for the second spot in the final laps, his attempts to work beneath Chesmore for the lead were unsuccessful. On the final lap, Johnson went to the high side and motored around the leader off turn four to take the exciting win, his second of the season.
Veterans Greg Hunter and Dean Wagner waged a whale of a battle at the front of the 25-lap IMCA Late Model feature. First, it was Hunter, who started outside of row one, taking the lead by a comfortable margin before Wagner chased down the race leader.
Wagner, running the low groove, reeled in Hunter and made his bid for the lead on the fifth circuit and proceeded to pull away from the field. Wagner appeared to have the field covered until the caution flag waved for debris with only five laps remaining.
On the restart, Hunter rocketed past Wagner on the outside as the leaders ran door-to-door over the final circuits. They remained in that formation until Hunter pushed high in turns three and four on the white flag lap. That allowed Wagner to sneak past him to drive to victory.
Jim Ball Jr. led throughout much of the 15-lap IMCA Hobby Stock main event while Nathan Ballard was working through traffic from a sixth row starting spot. Following a lap three restart, Ballard joined Ball and Benji Irvine at the front of the pack as that trio of drivers ran within a car-length of each other over the final 10 laps.
Ballard was able to sneak by Ball as the flying green was displayed to drive to his second win in as many appearances at the speedway this season. Ball held off Irvine for second.
Next Saturday, June 2, is Relay for Life Pink Night. Everyone is encouraged to wear pink to promote cancer awareness. Gates will open at 4 p.m., however hot lap and race times will be pushed back 30 minutes for the remainder of the season, starting June 2. Hot laps will be at 6 p.m. with racing scheduled to begin at 6:30.
RESULTS IMCA LATE MODEL Feature – 1. 60 Dean Wagner (Evansdale); 2. 7 Greg Hunter (Independence); 3. 99 Luke Pestka (Robins); 4. 16 Tyler Bruening (Decorah); 5. 45 Curt Martin (Independence); 6. 73 Greg Kastli (Waterloo); 7. 78 Rick Wendling (Hazleton); 8. 145 Dale Hackwell Jr. (Washburn); 9. 68 Tysus Pattee (Vinton); 10. 21B Joel Brasch (Dunkerton); 11. 2P Jon Passick (Waterloo); 12. 5W Scott Welsh (Cedar Rapids); 13. 25P Kenny Pint (Independence); 14. 14 Tracey Rigel (Waterloo); 15. 4 Leon Thomsen (Waverly); 16. 3X Chad Lerch (North Liberty); 17. 25 Bryan Klein (Cedar Rapids); 18. 4D Rick Dralle (Waterloo); 19. 88 Drew Johnson (Belle Plaine); 20. 98 Travis Smock (Independence); 21. 9 Bobby Hansen (Center Point); 22. 38S Dain Sires (Cedar Falls).
First heat – 1. Wagner; 2. Pint; 3. Hackwell; 4. Passick; 5. Thomsen; 6. Johnson; 7. Rigel.
Second heat – 1. Bruening; 2. Sires; 3. Welsh; 4. Pattee; 5. Wendling; 6. Dralle; 7. Brasch.
Third heat – 1. Hunter; 2. Pestka; 3. Smock; 4. Martin; 5. Klein; 6. Kastli; 7. Hansen; 8. Lerch.
IMCA MODIFIED Feature – 1. 19D Darin Duffy (Hazleton); 2. 71 Troy Cordes (Dunkerton); 3. 10K Ronn Lauritzen (Jesup); 4. 64 Vern Jackson (Waterloo); 5. 27M Mark Schulte (Delhi); 6. 83C Todd Conrad (Central City); 7. F7 Patrick Flannagan (Cedar Rapids); 8. 18 Jerry Luloff (Independence); 9. 91 Shawn Ryan (Waterloo); 10. 1J Jeff Streeter (Vinton); 11. 57B Dennis Betzer (Central City); 12. 01 Ed Thomas (Waterloo); 13. 80 Jerry Dedrick (Vinton); 14. 70 Jerry King (Waterloo); 15. 75 Josh Sherbon (Cedar Falls); 16. 11B Mike Burbridge (Delhi); 17. 26P Kevin Pittman (Waterloo); 18. 49 Mike Manson (Manchester); 19. 11 Timm Jensen (Dunkerton); 20. 24R Adam Johnson (Independence); 21. 85 Johnathan Thimmesch (Independence).
First heat – 1. Burbridge; 2. Lauritzen; 3. Flannagan; 4. Conrad; 5. Pittman; 6. Manson; 7. Ryan; 8. Luloff; 9. Thimmesch; 10. Thomas.
Second heat – 1. Sherbon; 2. Duffy; 3. Jackson; 4. Schulte; 5. Cordes; 6. Streeter; 7. Johnson; 8. King; 9. Dedrick; 10. Betzer; 11. Jensen.
IMCA STOCK CAR Feature – 1. 8R Sean Johnson (Independence); 2. 15 Norman Chesmore (Rowley); 3. 3 Jarod Weepie (Dunkerton); 4. 94 Steve Meyer (Grundy Center); 5. 87 John Emerson (Waterloo); 6. 89B Dave Stricker (Waterloo); 7. 17 Jason Niedert (Cedar Falls); 8. G1 Mike Padden (Waterloo); 9. 00 Tony Schimmels (Readlyn); 10. 29X Paul Fauser (Elgin); 11. 11J Jerome Jacoby (Waterloo); 12. 85 Bryce Carey (Nashua); 13. 4JR Russell Damme Jr. (Waterloo); 14. JR3 Jason Hocken (Independence); 15. 37C Roger Ciesielski (Waterloo); 16. 15T Tim Helle (Garnavillo); 17. 7H Phil Holtz (Manchester).
First heat – 1. Emerson; 2. Helle; 3. Ciesielski; 4. Meyer; 5. Stricker; 6. Chesmore; 7. Fauser; 8. Carey; DNS Jacoby.
Second heat – 1. Niedert; 2. Hocken; 3. Damme; 4. Weepie; 5. Holtz; 6. Schimmels; 7. Padden; 8. Johnson.
IMCA SPORTMOD Feature – 1. 3R Danny Dvorak (Vinton); 2. S16 Kip Siems (Cedar Falls); 3. 96 Lucas Lundry (Maynard); 4. 00 Jim Buhlman (Cedar Falls): 5. 49 Brandon Smith (Rowley); 6. J2 Dave Schulze (Keystone); 7. 29 Nathan Ballard (Marengo); 8. 39 Brian Hilbert (Independence); 9. 63 Matt McCahen (Waterloo); 10. 22H Curt Hilmer (Dysart); 11. 14 Shane Ebaugh (Evansdale); 12. 28P Rick Paulson (Tripoli); 13. 198 Sam Wieben (Dysart); 14. 7Z Zac Becker (Waterloo); 15. 9 Synjun Bauer (Prairie du Chien, Wis.); 16. 11M Mike Mitchell, Cedar Rapids; 17. 6 Jim Aschenbrenner (Aplington).
First heat – 1. Siems; 2. Dvorak; 3. Hilbert; 4. Aschenbrenner; 5. Schulze; 6. Wieben; 7. Mitchell; 8. McCahen.
Second heat – 1. Ebaugh; 2. Buhlman; 3. Smith; 4. Vogt; 5. Lundry; 6. Hilmer; 7. Paulson; 8. Bauer; 9. Becker.
IMCA HOBBY STOCK Feature – 1. 29 Nathan Ballard (Marengo); 2. 7B Jim Ball Jr. (Independence); 3. 79 Benji Irvine (Cedar Falls); 4. 5 Marcus Wayne (Independence); 5. 25 Jamie Whitaker (Oelwein); 6. 14G Curt Graham (Tiffin); 7. 166 Justin Lichty (Waterloo); 8. 67 Justin Stander (Vinton); 9. 26 Nathan Christie (Waterloo); 10. 95 Matt Lundry (Oelwein); 11. 45 Justin Wacha (Vinton); 12. 99 Erick Knutsen (Center Point); 13. 82 Billy Rhoades (Maynard); 14. 58B Randy Byerly (Tipton); 15. 20B Matt Burmeister (Dunkerton); 16. 2 Nick Welch (Cedar Falls); 17. 64 Jerome Wilson (Waterloo); 18. 14J Jacob Floyd (Cedar Rapids); 19. 10MW Mike Wilson (Jesup); 20. 77 Rod Grother (Cedar Rapids); 21. 20W Bruce Fraser (Manchester); 22. 20JN Justin Ginther (Independence); 23. 35B Shawn Kuennen (Hazleton); 24. 55 Vince Buchholz (Cedar Falls); 25. 21 Jason Williams (Belle Plaine); 26. 18 Chris Luloff (Independence); 27. 12J Jeremy Floyd (Cedar Rapids).
First heat – 1. Rhoades; 2. Buchholz; 3. Ginther; 4. Christie; 5. Wacha; 6. Lundry; 7. Graham; 8. Welch; 9. Jeremy Floyd.
Second heat – 1. Stander; 2. Wilson; 3. Wayne; 4. Kuennen; 5. Grother; 6. Wilson; 7. Burmeister; 8. Luloff; 9. Williams.
Third heat – 1. Ballard; 2. Irvine; 3. Ball; 4. Fraser; 5. Whitaker; 6. Lichty; 7. Knutsen; 8. Jacob Floyd; 9. Byerly.
Comments
comments