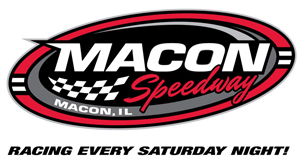 By Brett Zerfowski
MACON, ILL (May 26, 2012) - A full show of stock car racing at Macon Speedway on a warm late-spring evening saw former feature winners come to Victory Lane again. Steve Ewing has missed the last few weeks at the race track and came back with a fury as he cruised through the traffic en route to his third feature of 2012 in the Street Stocks. The race was completed without a caution flag involved, a first in the Street Stock division in 2012. Kevin Crowder of Argenta ran behind Ewing on the high side to finish second. Decatur's Mike Pickering was third; Harristown's Larry Russell, Jr. was fourth and Jason Hazlet of Moweaqua was fifth.
The Billingsley Towing Modifieds featured a $600-to-win event which saw Guy Taylor win his second straight feature as he led all 20 laps. Taylor had little difficulty weaving his way through the traffic and turns of the race. Dave Crawley, Jr., who finished second, followed Taylor but couldn't get close enough to make a move for the lead. Randy Huffman took third place after Shane Tomlin came off with a smoking Modified on the 14th lap. Jeff Graham of Taylorville finished in fourth and then Tommy Sheppard, Jr. of New Berlin netted a top-five finish.
Rick Roedel got a little luck to land into Victory Lane Saturday, his second visit this season in the Sportsman. Dennis Vandermeersch was leading easily through the race but on the tenth lap, he pulled off on the backstretch and inspected the car while the race completed. Roedel came from starting sixth to get the lead and was challenged by defending Sportsman champion Nick Macklin. Dave Crawley, Jr. bypassed Scott Landers for third place and Cody Wickline was fifth.
In the Pro Hornets, Jeremy Reed won his sixth straight feature. Kenneth Reed and Joseph McChristy tried to keep the pace with the winner but could not touch him. Chevy Justice was the only feature winner Saturday to have never won a feature event. He did so in the Amateur Hornet feature as he passed Michael Gossett on a late-race restart. Brady Reed, the previous week's feature, who by the rules, must start in the back of the race, charged forward to finish second. Nick Matherly and Derek Peters also chased for the win but it was Justice's night.
Mark and Tim Hall, driver and crew chief of the 2011 Monster Truck of Year "Raminator," wowed the crowd with a display during intermission, crushing three cars, donated by Decatur Auto Parts, and a boat! Truly stating, you never know what you'll see when you come to Macon Speedway.
The next event at Macon Speedway is the Memorial Day Monday Night of NASCAR Stars with Kenny Wallace, Ken Schrader and Justin Allgaier. The racing begins at 6pm Monday starting with Late Model qualifying and the special $2,000-to-win Late Model race.
Here is the results of the race as well as current point standings
UMP Amateur Hornet – Feature
Pos Driver Car #
1 Chevy Justice 1R
2 Brady Reed 33
3 Derek Peters 96
4 Nick Matherly J4
5 Timothy Cripe 81
6 Marty Sullivan 39
7 Roger Reed 51R
8 Michael Gossett 205
9 Dillon Justice 11J
10 Zach Perryman 56Z
11 Austin Harbin 21
12 John Bright Jr 13
13 Phillip Allen 2A
UMP Amateur Hornet – Heat 1
Pos Driver Car #
1 Brady Reed 33
2 Michael Gossett 205
3 Chevy Justice 1R
4 Dillon Justice 11J
5 Timothy Cripe 81
6 Roger Reed 51R
7 Phillip Allen 2A
UMP Amateur Hornet – Heat 2
Pos Driver Car #
1 Derek Peters 96
2 Nick Matherly J4
3 Zach Perryman 56Z
4 Marty Sullivan 39
5 Austin Harbin 21
6 John Bright Jr 13
UMP Hornet – Feature
Pos Driver Car #
1 Jeremy Reed 33
2 Kenneth Reed 98
3 Joseph McChristy 21
4 Bruce Dulgar 83
5 Jerad Matherly J4
6 Billy Justice 11
7 Jenny Clinton 53
8 Brian Offer 88
9 Matthew Reed 4
10 Steven Stine 14X
11 John Garner 81
12 Brett Embry 205
13 Steven Dulgar 2A
UMP Hornet – Heat 1
Pos Driver Car #
1 Joseph McChristy 21
2 Steven Stine 14X
3 Brett Embry 205
4 John Garner 81
5 Matthew Reed 4
6 Steven Dulgar 2A
7 Billy Justice 11
UMP Hornet – Heat 2
Pos Driver Car #
1 Jeremy Reed 33
2 Kenneth Reed 98
3 Bruce Dulgar 83
4 Brian Offer 88
5 Jerad Matherly J4
6 Jenny Clinton 53
UMP Modified – Feature
Pos Driver Car #
1 Guy Taylor 77
2 David Crawley Jr. 37
3 Randy Huffman 5H
4 Jeff Graham 71
5 Tommy Sheppard Jr 66S
6 Tommy Sheppard 66T
7 Andrew Barnes 23
8 Clark Robertson 35
9 Danny Smith 9X
10 Tom Lambdin 05
11 Steve Keenen 63
12 Frank Reed Jr 54R
13 Kevin Cook 55C
14 Sean Kincade 21K
15 Shane Tomlin 18
16 Alan Crowder 14C
17 Joe Strawkas 28
UMP Modified – Heat 1
Pos Driver Car #
1 David Crawley Jr. 37
2 Shane Tomlin 18
3 Clark Robertson 35
4 Jeff Graham 71
5 Tommy Sheppard 66T
6 Tommy Sheppard Jr 66S
7 Sean Kincade 21K
8 Tom Lambdin 05
9 Kevin Cook 55C
UMP Modified – Heat 2
Pos Driver Car #
1 Guy Taylor 77
2 Danny Smith 9X
3 Randy Huffman 5H
4 Alan Crowder 14C
5 Joe Strawkas 28
6 Andrew Barnes 23
7 Steve Keenen 63
8 Frank Reed Jr 54R
UMP Sportsman – Feature
Pos Driver Car #
1 Rick Roedel 11
2 Nick Macklin 16
3 David Crawley Jr. C25
4 Scott Landers 41
5 Cody Wickline 4G
6 Thomas Riech 57
7 Ty Nation 93
8 Tony Clinton 22J
9 Dennis Vandermeersch 125
10 Kenny Patient J24
11 Mike Pickering 9
12 Tim Bedinger B99
13 Nick Justice 36
14 Tom Graham 72
UMP Sportsman – Heat 1
Pos Driver Car #
1 Scott Landers 41
2 Cody Wickline 4G
3 Rick Roedel 11
4 Tony Clinton 22J
5 Thomas Riech 57
6 Kenny Patient J24
7 Nick Justice 36
UMP Sportsman – Heat 2
Pos Driver Car #
1 Mike Pickering 9
2 Dennis Vandermeersch 125
3 Nick Macklin 16
4 Tim Bedinger B99
5 David Crawley Jr. C25
6 Ty Nation 93
7 Tom Graham 72
UMP Street Stock – Feature
Pos Driver Car #
1 Steve Ewing 20
2 Kevin Crowder 15C
3 Mike Pickering 99
4 Larry Russell Jr. X7
5 Jason Hazlet 23
6 Josh Smith 28
7 Bobby Beiler 29
8 Terry Reed 11
9 Kyle Waters 26
10 Jeffery Reed Jr. 52R
11 Jeremiah Hoadley 51
12 Gene Reed 61
13 Blake Shelly 30
14 Greg Osman 25
15 Jonathan Drake 52
16 Roy MaGee II 57R
17 Tom Miller 58
UMP Street Stock – Heat 1
Pos Driver Car #
1 Steve Ewing 20
2 Josh Smith 28
3 Larry Russell Jr. X7
4 Mike Pickering 99
5 Bobby Beiler 29
6 Blake Shelly 30
7 Roy MaGee II 57R
8 Greg Osman 25
9 Gene Reed 61
UMP Street Stock – Heat 2
Pos Driver Car #
1 Kevin Crowder 15C
2 Jason Hazlet 23
3 Jonathan Drake 52
4 Kyle Waters 26
5 Jeffery Reed Jr. 52R
6 Jeremiah Hoadley 51
7 Terry Reed 11
8 Tom Miller 58
Comments
comments
Category: Illinois, Macon Speedway, News