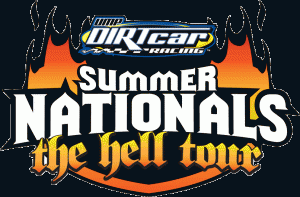 New Richmond, Wis. – June 16, 2012 – Everyone on the DIRTcar Summer Nationals tour knows now that Billy Moyer Jr. isn't messing around after the 25-year-old driver won the 50-lap Cedar Lake Speedway finale on Saturday night worth $10,000 and increased his win percentage on tour to 75% in the process.
(For late breaking news from the DIRTcar Summer Nationals 'Hell Tour', click here to follow along on Twitter.)
Moyer grabbed the lead on the opening lap and wouldn't relinquish the top spot over the course of the main event withstanding a late run by Solon Springs, Wis., driver Brady Smith that saw Smith make multiple attempts at Moyer Jr. with less than 15 laps remaining. Smith would settle for the runner-up spot and 3-time Summer Nationals Champion Shannon Babb finished third. Pole sitter Jason McBride of Carbondale, Ill., finished fourth and Chatham, Ill., driver Brian Shirley rounded out the top five.
(Click here for news and information on the DIRTcar Summer Nationals.)
The tour will move to Wilmot Raceway in Wilmot, Wis., Sunday for a $5,000-to-win event. Rodney Melvin of Benton, Ill., won the tour's last race at Wilmot in 2010. Moyer Jr. currently leads the DIRTcar Summer Nationals point standings by 29 markers over his father, late model legend Billy Moyer. Defending Hell Tour Champion Shannon Babb is third, 35 marke
Heat 1:
Chad Simpson, Brandon Sheppard, Charlie McKenna, Frank Heckenast Jr., Jon Henry, Mark Voigt, Nick Bartels, Jerry Lierly
Heat 2:
Shannon Babb, Brian Shirley, Don O'Neal, Terry Casey, Jason Feger, Dennis Erb Jr., Justin Hirt, Bobby Pierce
Heat 3:
Billy Moyer Jr., Brady Smith, Billy Moyer, Chris Simpson, Brian Birkhofer, Leon Henderson, Kathy Jarvis. DNS: Jason Rauen
Heat 4:
Jason McBride, Jimmy Mars, A.J. Diemel, Mike Spatola, Ryan Unzicker, Jeff Larson, Mike Fryer
B-Main:
Jason Feger, Brian Birkhofer, Jon Henry, Ryan Unzicker, Dennis Erb Jr., Leon Henderson, Jeff Larson, Mark Voigt, Nick Bartels, Jerry Lierly, Mike Fryer, Kathy Jarvis, Justin Hirt, Bobby Pierce. DNS: Jason Rauen, Andrew McKay
Feature
1. Billy Moyer Jr.
2. Brady Smith
3. Shannon Babb
4. Jason McBride
5. Brian Shirley
6. Brandon Sheppard
7. Jimmy Mars
8. Chad Simpson
9. Billy Moyer
10. Mike Spatola
11. Don O'Neal
12. Terry Casey
13. Frank Heckenast Jr.
14. Brian Birkhofer
15. A.J. Diemel
16. Ryan Unzicker
17. Dennis Erb Jr.
18. Jason Feger
19. Charlie McKenna
20. Bobby Pierce
21. Jon Henry
22. Chris Simpson
Comments
comments