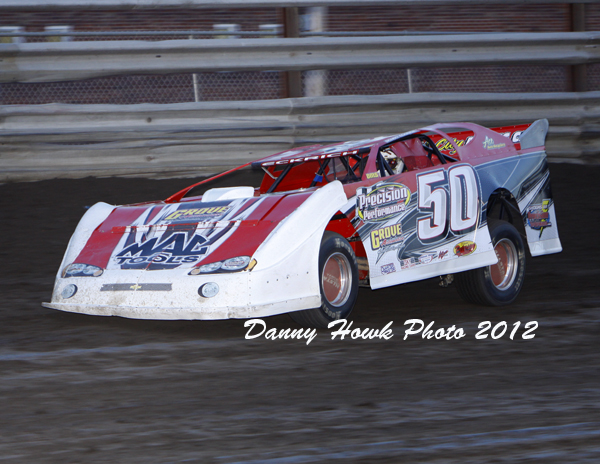 OSKALOOSA, IOWA (June 20, 2012) – Denny Eckrich dominant in Southern Iowa Speedway Deery win
OSKALOOSA, Iowa (June 20) – Denny Eckrich helped make the scorer's job easier  Wednesday at Southern Iowa Speedway.
Eckrich led every time around the half-mile oval at Oskaloosa, winning his career se­cond Deery Brothers Summer Series feature in dominating style.
The $2,000 victory came ahead of two-time defending series champion Ray Guss Jr., who ran second all 35 circuits.
Todd Cooney, Jeff Aikey and Andy Eckrich completed the top five for the midweek IMCA Late Model tour main event.
Point leader Mike Murphy Jr. was sixth.
Guss drew the pole with Denny Eckrich outside row one. Dialed in from the get-go, Eckrich pulled ahead from the pack and ran by himself most of the night.
The only caution of the contest came out for a single car miscue on lap 20. Eckrich remained unchallenged after the restart, taking the checkers well ahead of Guss.
Aikey was the hard charger, advancing eight positions from his original starting spot. Hometown driver Jeff Mitrisin pocketed the $250 Sunoco Race Fuels feature qualifier drawing.
Eckrich had won his Deery career first feature last month at Marshalltown.
Independence Motor Speedway notes the tour's 25th visit to that venue on Monday, July 2 with a $2,525 to win main event. Pit gates open at 5 p.m., hot laps are at 6:45 p.m. and racing starts at 7 p.m.
Autocrafters/Whalen Racing IMCA Sport Compacts Feature: 1. 2 Merv Chandler (Vinton, IA); 2. 26 Brad Chandler (Cedar Rapids, IA); 3. 00W Bill Whalen Jr. (Riverside, IA); 4. 3C Cody Thompson (Kinsworth, IA); 5. 40K Ricky Kay (Wheatland, IA); 6. 77 John Whalen (Ainsworth, IA); 7. 04 Trent Orwig (Blakesburg, IA); DNS: 59R Ronald McCish (Union, IA) Heat: B. Chandler, M. Chandler, Kay, B. Whalen, J. Whalen, Thompson, McCish, Orwig
Carter's Manufacturing IMCA Stock Cars Feature: 1. 29 Matt Greiner (Washington, IA); 2. 19A Alan Van Gorp (Knoxville, IA); 3. 33Z Zack Vanderbeek (New Sharon, IA); 4. 99D Damon Murty (Chelsea, IA); 5. 52 Nathan Wood (Sigourney, IA); 6. 566 Jim Lynch (Donnellson, IA); 7. 68 Cole Simmons (Morning Sun, IA); 8. 30J Alex Buffington (Wapello, IA); 9 22R Todd Reitzler (Grinnell, IA); 10. 94 Corey Stout (Oskaloosa, IA); 11. 7 Todd Phillips (Packwood, IA); 12. 55 Steve Hill (Des Moines, IA); 13. 49G Leroy Groenendyk (Oskaloosa, IA); 14. 39 Clayton Garden (Oskaloosa, IA); 15. 73C Carl Yaw Jr. (Des Moines, IA); DNS: 11 Scott Seaman (Des Moines, IA)
 Heat #1: Greiner, Murty, Reitzler, Groenendyk, Simmons, Hill, Buffington, Yaw
Heat #2: Wood, Stout, Lynch, Van Gorp, Vanderbeek, Phillips, Garden, Seaman
Tracy Elevator IMCA Hobby Stocks Feature: 1. 96R Jamie Songer (Ankeny, IA); 2. 32T Bobby Greene (Eddyville, IA); 3. 78 Shannon Anderson (Urbandale, IA); 4. 84 Danny Thrasher (Agency, IA); 5. 18H Mike Hughes (Oskaloosa, IA); 6. 10G Dustin Griffiths (Ottumwa, IA); 7. 52 Kevin Fee (Knoxville, IA); 8. 2N Donavon Nunnikhoven (Sully, IA); 9. 21 Nick Ulin (Agency, IA); 10. 33 Justin Hook (Oskaloosa, IA); 11. 69 Craig Brown (Eldon, IA); 12. 6 Jarred Gann (Sigourney, IA); 13. 20T Richard Yaw II (Pleasant Hill, IA)
Heat #1: Anderson, Songer, Greene, Nunnikhoven, Fee, Yaw II, Gann
Heat #2: Hughes, Hook, Griffiths, Thrasher, Brown, Ulin
Pyramid Graphics and Sports IMCA SportMods Feature: 1. 27 Bryan Weyer (Des Moines, IA); 2. 99 Jesse Sobbing (Glenwood, IA); 3. 1 Curtis VanDerWal (Oskaloosa, IA); 4. 7 Carter VanDenBerg (Oskaloosa, IA); 5. 95J Jason Hall (Grinnell, IA); 6. 8T Tony Johnson (Oskaloosa, IA); 7. 72 Brett Lowry (Montezuma, IA); 8. 12 Eric Flander (Barnes City, IA); 9. 48R Adam Bell (Kolona, IA); 10. 8 Tom Lathrop (Ottumwa, IA); 11. 1D Bobby Davis III (Des Moines, IA); 12. 30X Josh Modde (Des Moines, IA); 13. 42 Tyler Heckart (Ottumwa, IA); 14. 85 Jason McDaniel (Eldon, IA); 15. 01 Brayton Carter (Oskaloosa, IA); 16. 10L Levi Laymon (Muscatine, IA); 17. 38 Bill Gibson (Knoxville, IA) ; 18. 26J Joel Rust (Grundy Center, IA)
Heat #1: Flander, McDaniel, VanDerWal, Gibson, Rust, Laymon, Modde, Lathrop, Carter, Bell
Heat #2: Weyer, Sobbing, Lowry, Johnson, VanDenBerg, Davis III, Hall, Heckart
Deery Brothers Summer Series IMCA Late Models Feature: 1. 50 Denny Eckrich (Tiffin, IA); 2. 58 Ray Guss Jr. (Milan, IL); 3. 30 Todd Cooney (Des Moines, IA); 4. 77 Jeff Aikey (Cedar Falls, IA); 5. 56 Andy Eckrich (Oxford, IA); 6. 14 Mike Murphy Jr. (Colona, IL); 7. 77X Kurt Kile (Nichols, IA); 8. 93 Jay Johnson (West Burlington, IA); 9. 29 Spencer Diercks (Davenport, IA); 10. 99D Darrel DeFrance (Marshalltown, IA); 11. 88 Kevin Kile (West Liberty, IA); 12. 38 Colby Springsteen (Wapello, IA); 13. 15K Justin Kay (Wheatland, IA); 14. 6 Jay Chenoweth (Wapello, IA); 15. 40 Joel Callahan (Dubuque, IA); 16. 5J Jeff Mitrisin (Oskaloosa, IA); 17. 16 Tyler Bruening (Decorah, IA); 18. 30D Justin Diercks (Davenport, IA); 19. 33 Paul Glendenning (Mount Ayr, IA); 20. 3 Kevin Sather (Ankeny, IA); DNS: 31 Jason Utter (Columbus Junction, IA); DNS: 45K Mike Klinkhammer (West Branch, IA)
Heat #1: A. Eckrich, Ku. Kile, Callahan, Aikey, Mitrisin, Glendenning, Kay, Bruening
Heat #2: Murphy, Johnson, Guss, S. Diercks, Sather, Ke. Kile, J. Diercks
Heat #3: D. Eckrich, Cooney, Utter, Springsteen, DeFrance, Chenoweth, Klinkhammer
Comments
comments
Category: Deery Brothers Summer Series, Iowa, News, Series, Southern Iowa Speedway