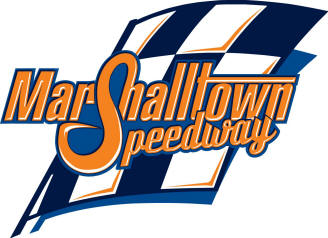 Noteboom, Johnson, Hulin, Watson and Morrill Winners on Night 1 of Havoc on the High Banks
By Jeremy Fox
MARSHALLTOWN, IA (September 21, 2012) – After being idle for a few weeks that Marshalltown Speedway roar back to life with Night 1 of the 6th Annual Toby K's Hideaway Havoc on the High Banks. There would be some fantastic 3, 4 and 5 wide through out the night and some exciting finishes.
Andy Hennigar would take the lead on lap 1 but it was Mike Morrill getting by on the topside on lap 2 in the O'Reilly Auto Part Mod Lites Feature. Morrill would continue to work the topside while Hennigar was on the bottom by the tires. The only thing that would slow Morrill and Hennigar would be the two race cautions in the early going but it was Morrill holding off any challenges from Hennigar to take the win. Hennigar would settle for 2nd, Troy Hudson was 3rd, Mike Kennedy was 4th and Paul Nagle was 5th
Big 8 Tyre Center IMCA SportMods feature would see Curtis Vanderwal taking the early lead and appear to be pulling away with it until he started encountering lap traffic and that would allow Track Champion Racer Hulin chase him down and grab the lead on lap 8. A Lap later the only caution would come when a car would come to a stop on the run off road but Hulin wouldn't let that bother him as he would go on to take the victory. Ty Luellen would get by Vanderwal in the later stages to take 2nd with Vanderwal in 3rd. Randy Roberts, who started 12th and Carter Vandenberg would round out the top 5.
In the Toby K's Hideaway IMCA Hobby Stocks 15 lap feature it was John Watson taking full advantage of his pole position as he would jump to the lead. Watson would see the yellow fly four times through out the feature including one that set up the green-white-checkered finish.  Watson would have to deal with several different drivers Devin Smith, Scott Pippert and Garrett Eilander through out but hold them off to take the win. Pippert, who started 12th would get by Smith to grab 2nd. Smith, Lichty and Chris Luloff would finish third through fifth.
The Mike's Hard Lemonade IMCA Stock Cars feature would go green-to-checkered and it was Sean Johnson from Independence leading all 20 laps and the only thing that slowed him down was the lap traffic in the 2nd half of the race. Donavon Smith would finish 2nd, Christopher Wiltse was 3rd, Jeff Wollam was 4th and Jay Schmidt was 5th.
The final feature of the night was JR Motorsports Hawkeye Dirt Tour for IMCA Modifieds 30 lap feature and this feature would not despite as it was Darin Duffy taking the early lead from his outside front row starting spot and he would lead it pretty easily until the caution came out on lap 10 when Patrick Flannagan in Dennis Betzer's car would go around in turn 3. Duffy would now know that Jay Noteboom who started 7th had worked his way up through the field. Duffy and Noteboom would start getting in to a battle for the lead with Duffy holding off Noteboom until lap 17. Noteboom would slip up just a bit on lap 20 allowing Duffy back by on the topside. Duffy and Noteboom would continue to swap the lead until Noteboom would finally grab it away on lap 23. Noteboom would take the win and Duffy would settle for 2nd. Jon Snyder, Mark Elliott and Randy Havlik would round out the top 5. Jeremy Mills came in as the point leader for the Hawkeye Dirt Tour by 6 pts and will now head into tomorrow night in a tie with Jay Noteboom because Mills finish 7th.
The Speedway will be back in action again tomorrow night with night #2 of the 6th Annual Havoc on the High Banks featuring the JR Motorsports Hawkeye Dirt Tour IMCA Modifieds. Also Racing will be IMCA Stock Cars, IMCA SportMods, IMCA Hobby Stocks, Mod Lites, IMCA Sport Compacts and Karl Chevrolet Dirt Trucks. Hot Laps at 6:30 pm and Racing to Follow at 7 pm.
 
For additional information and to follow the season at the Marshalltown Speedway, log on at: http://www.marshalltownspeedway.com/, or follow Marshalltown Speedway on Facebook and Twitter, or call the speedway office at 515-432-4703.
Marshalltown Speedway Results
September 21, 2012

JR Motorsports Hawkeye Dirt Tour for IMCA Modifieds
Heat 1: 3Z Randy Havlik – 10M Jeremy Mills – 27K Kelly Lyons
Heat 2: 71W Jeff Waterman – 10K Ronn Lauritzen – 57V Mike Van Genderen
Heat 3: 12 Mark Elliott – 19D Darin Duffy – 20W Shay Woods
Heat 4: 7N Jay Noteboom – 69X Jon Snyder – 83G Josh Gilman

B-Feature 1 (top 5 advance): 1. 19G Richie Gustin; 2. 10C Cayden Carter; 3. 19 Jimmy Gustin; 4. 24R Adam Johnson; 5. 1J Jeff Streeter; 6. 11D Ryan Dolan; 7. 12EH Riley Emmel; 8. 01 Ed Thomas; 9. 27M Mark Schulte; 10. K1 Kyle Krampe; 11. 5 Todd Shute; 12. 21KX Kyle Brown; 13. 40RC Rod Clement
B-Feature 2 (top 5 advance): 1. 00J JD Auringer; 2. V43 Milo Veloz Jr.; 3. 85X Dustin Smith; 4. 2Z Zack Rawlins; 5. 11 Ray Cox Jr.; 6. 43S Scott Simatovich; 7. 57B Patrick Flannagan; 8. 32 Rick Speck; 9. 6 Jason Schoenberger; 10. 24A Robert Avery; 11. 4 Tony Hilgenberg; 12. 49 Michael Munson
Feature: 1. 7N Jay Noteboom; 2. 19D Darin Duffy; 3. 69X Jon Snyder; 4. 12 Mark Elliott; 5. 3Z Randy Havlik; 6. 19 Jimmy Gustin; 7. 10M Jeremy Mills; 8. 10K Ronn Lauritzen; 9. 83G Josh Gilman; 10. V43 Milo Veloz Jr.; 11. 19G Richie Gustin; 12. 10C Cayden Carter; 13. 2Z Zack Rawlins; 14. 00 JD Auringer; 15. 85X Dustin Smith; 16. 11D Ryan Dolan; 17. 11 Ray Cox Jr.; 18. 24R Adam Johnson; 19. 27M Mark Schulte; 20. 1J Jeff Streeter; 21. 71W Jeff Waterman; 22. 27K Kelly Lyons; 23. 20W Shay Woods; 24. 57V Mike Van Genderen
Mikes Hard Lemonade IMCA Stock Cars
Heat 1: 8R Sean Johnson – 17R Derek Reimer – 23HR Rod Richards
Heat 2: 96 Christopher Wiltse – 50 Robert Stofer – 04 Don Vis
Heat 3: 35 Donavon Smith – 3 Jarod Weepie – 94 Steve Meyer

B-Feature (top 3 advance): 1. 22R Todd Reitzler; 2. 21ZC Cody Cleghorn; 3. 52W Ben Walding; 4. 23H Rick Houseman; 5. 85 Bryce Carey; 6. 76X Chad Siems; 7. 042 Doug Russell; 8. 2 Dave Atcher
Feature: 1. 8R Sean Johnson; 2. 35 Donavon Smith; 3. 96 Christopher Wiltse; 4. 3W Jeff Wollam; 5. 19J Jay Schmidt; 6. 94 Steve Meyer; 7. 3 Jarod Weepie; 8. 17R Derek Reimer; 9. 50 Robert Stofer; 10. 99D Damon Murty; 11. 64X Aaron Parmer; 12. 15T Tim Helle; 13. 76 Mike Galli; 14. 69 Steve Wiltse; 15. 55 Dave Mehmen; 16. 21 Ross Marshall; 17. 21ZC Cody Cleghorn; 18. 23HR Rod Richards; 19. 56 Lonnie Hodges; 20. 50L Lauren Vis; 21. 22R Todd Reitzler; 22. 04 Don Vis; 23. 25D Bob Daniels; 24. 52W Ben Walding
Big 8 Tyre Center IMCA SportMods
Heat 1: 7 Carter Vandenberg – 32L Ty Luellen – 23JR Nick Roberts
Heat 2: 80J Jared Vandeest – 1 Randy Roberts – K1 Randy Krampe
Heat 3: 505 Racer Hulin – 26J Joel Rust – 34 Jerry Hinton
Heat 4: 777 Jayme Duinink – 1V Curtis Vanderwal – 19G Gatlin Leytham

B-Feature 1 (top 4 advance): 1. 99 Rocky Caudle; 2. 20G Michael Grantham; 3. 57B Lynn Brockett; 4. 198 Sam Wieben; 5. 72 Mike Hogencamp; 6. 34Z Cory Van Zante; 7. 91 Shawn Hunter; 8. 32N Neil Follett; 9. 28 James Reichart; 10. 3 Brad Clark; 11. 15A Carl Albee; 12. 3B Ryan Coleman; 13. 4A Dan Swank
Feature: 1. 505 Racer Hulin; 2. 32L Ty Luellen; 3. 1V Curtis Vanderwal; 4. 1 Randy Roberts; 5. 7 Carter Vandenberg; 6. 26J Joel Rust; 7. 777 Jayme Duinink; 8. 23JR Nick Roberts; 9. 34 Jerry Hinton; 10. T17 Tom Rawlins; 11. 66 Cale Turner; 12. 80J Jared Vandeest; 13. 57B Lynn Brockett; 14. 63 Matthew McCahen; 15. 198 Sam Wieben; 16. 99 Rocky Caudle; 17. 1JR Ben Chapman; 18. 20G Michael Grantham; 19. 13T Taylor Musselman; 20. 43 Creston Williams; 21. K1 Randy Krampe; 22. 98 Bill Hildreth; 23. 57R Ryan King; 24. 19G Gatlin Leytham
Toby K's Hideaway IMCA Hobby Stocks
Heat 1: 26 Brice Udelhoven – 81 Devin Smith – 47 Scott Pippert
Heat 2: 4W John Watson – 78 Shannon Anderson – 73 Quinton Miller 
Heat 3: 18 Chris Luloff – 38R Aaron Rudolph – 3X Scott Durlin
Feature: 1. 4W John Watson; 2. 47 Scott Pippert; 3. 81 Devin Smith; 4. 166 Justin Lichty; 5. 18 Chris Luloff; 6. 500 Garrett Eilander; 7. 78 Shannon Anderson; 8. 38R Aaron Rudolph; 9. 24B Brandon Brinton; 10. 82 Jennifer Hulin; 11. 3X Scott Durlin; 12. 66 Andy Mahlstedt; 13. 57 Marlena Betzer; 14. 2 Nick Welch; 15. 31 Ben Truetken; 16. 17 Andy Peck; 17. 52 Josh Saunders; 18. 43 Nic Shearer; 19. 83 Eugene Nicklas; 20. 10S Ray Stock Jr.; 21. 5 Dustin Lynch; 22. 26 Brice Udelhoven; 23. 5A Tyler Pickett; 24. 13G Craig Graham; 25. 73 Quinton Miller; 26. 4X Gary Pfantz; 27. 17J Josh Frederickson; DNS: 19D Dustin Elliott
O'Reilly Auto Parts Mod Lites
Heat 1: 41Z Ed Zehm – 15 Andy Hennigar – 20 Paul Nagle
Heat 2: 6 Mike Morrill – 46Z Bryan Zehm – X50 Joel Huggins
Feature: 1. 6 Mike Morrill; 2. 15 Andy Hennigar; 3. 5 Troy Hudson; 4. 95 Mike Kennedy; 5. 20 Paul Nagle; 6. 41Z Ed Zehm; 7. 8 Dusty Masolini; 8. 46Z Bryan Zehm; 9. 7 Johnny Mordock; 10. DC5 Dustin Forsberg; 11. 19JR Danny Foster; 12. 58L Dallas Larson; 13. X50 Joel Huggins
Category: Iowa, Marshalltown Speedway